My music collection plays live with no talk, just music 24×7.
A neighbor liked listening to it since it doesn't have any commercials.  She called it K-Dave and it stuck ever since.
As of 14-Jul-2023 I finally got an on-page player to work:
Now Playing: Loading …
Recent Tracks:
Loading …
You can also open a player in a new tab or click the following button (that sometimes quits working for no obvious reason):
Streema appears to be working as of July, 2023:

In addition to Streema you can hear K-Dave on is also listed on RadioGarden
My upstream goes to Internet-Radio.com but their pop-up player takes up an entire page.  Quick link to the Internet-Radio player page:
http://player.internet-radio.com/?us3.internet-radio.com:server=8350
The main player page where you can choose from various players: www.internet-radio.com/station/kdave/
Here are more options to listen to the stream.  Choose your preferred player below, click the link to download the file.  Once downloaded it may appear at the bottom of your browser.  You can then open the file to start your preferred player:

 Winamp, iTunes (.pls)


 Windows Media Player (.asx)


 Real Player (.ram)


 QuickTime (.qtl)
Here is a direct link to .m3u player files for Media Player Classic.
If you download the .pls file but don't have a Windows player associated with it you I recommend you try VLC, an open-source (free) video/audio player that works very well and handles .pls and other file formats.  At this point VLC seems to be the only player that shows "now playing" data.
I had a request for an icon to put on a phone.  If you own an Android phone then I recommend VLC for Android.  It is open source and therefore free of ads.  Once you have downloaded and installed VLC click the "… More" at the lower-right then press the "+ New stream" button.  Enter "http://us3.internet-radio.com:8350/live" and press the 'send' arrows to the right.  This should create the stream address for you.  After that you can long-press the K-Dave stream button and choose the option to create a launcher shortcut on your phone's home screen.  Let me know if you have any trouble with this.
I am still learning the capabilities of the new service.  Please bear with me.
I was able to have TuneIn, a streaming station indexing service, change their pointers to my new stream.  You can listen to K-Dave using their service by going to TuneIn.com and search for K-Dave or by following this link: https://tunein.com/radio/K-Dave-s299803/. You will need to wait for a while before you find out if your browser supports TuneIn directly or it tells you to click their pop-out player, which you can try directly Here: TuneIn Pop-Out Player
As of July, 2023 this still isn't working but if the stars align you may be able to tell Google Home to stream K-Dave via TuneIn.  For some reason you need to spell it out.  Try saying the following to your Google Home speaker "Hey, Google, play K D A V E on TuneIn".   Remember to spell  K D A V E letter by letter otherwise it will give you an error "TuneIn doesn't play artists or albums" or some such.  This capability is hit-and miss.  I haven't figured out why it works at times, then other times it doesn't.  Amazon's Alexa may also work.  I haven't tried it yet.
I truly appreciate the many loyal listeners I have, some of whom stream K-Dave for hundreds of hours (Thank YOU, the guy from Germany!).  I know the mix is a little guitar-heavy, but I like guitar (I even play guitar sometimes).  More variety will be added. Things that tickle my ear have a way of ending up in the playlist.  This will even out the mix of songs as time goes on.
Here is information on a Dead Air Detector (PowerPoint) or Dead Air Detector (PDF) that I built due to intermittent problems with my audio processor software.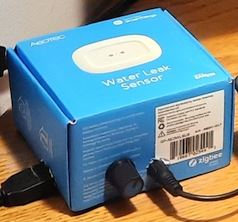 You'll need a SmartThings or similar hub, a temperature sensor, some cables and an audio amplifier if you want to build one but it goes together quickly (one afternoon) and cost less than US$50 to build, not including the hub.  I build mine around the Aeotec SmartThings system since I already owned a hub.
Here is the K-Dave Station ID but you won't hear it on the air for now since I haven't set up a way to include it regularly with the 'mix':