Prei Schotel – "The Leek Dish" recipe
16-Mar-13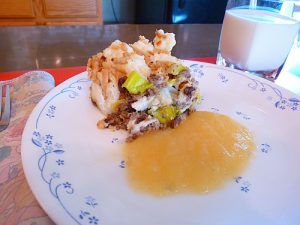 "Prei Schotel" is the Dutch name for a layered oven dish with leek ("Prei").  It is similar to shepherd's pie but with fewer ingredients.
1 lb ground beef
1t ground pepper (adjust to taste)
½ t salt (adjust to taste)
½ Cup raisins
5 large red potatoes
2 leeks
3/4C French-fried onions or 1/2C breadcrumbs (topping)
Applesauce, 24-oz jar (to be served on the side)
Peel, cut and boil potatoes until done; mash to remove lumps.  While potatoes are cooking slice leeks in half the long way.  Remove and discard the root end to about 1/4 of the total length (keep about ¾ of the rest).  Cut the leeks into ½" slices.  Set aside.  Brown ground ground beef with salt and pepper, cook until half done, add raisins.  Continue to brown until about ¾ done then add leeks.  Cook for about 3 more minutes.  Layer into the bottom of a 9" round or about 7" square baking dish.  Cover with mashed potatoes.  Top with French-fried onions or breadcrumbs.  Bake for 20 minutes.  Serve with applesauce on the plate or on the side.