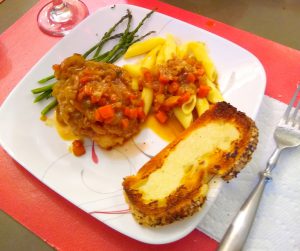 Ingredients:
4 boneless, skinless chicken breast halves
Salt and pepper to taste
1 cup all-purposed flour
3 tablespoons olive oil
2 cups diced onion
1 cup diced celery
1 cup diced carrots
2 tablespoons finely chopped garlic
3 bay leaves
1 teaspoon dried thyme
1 cup dry white wine
2 (32 fluid ounce) containers of chicken broth
Directions:
Dice the vegetables.  Season chicken breasts with salt and pepper, then dredge in flour until completely coated. Heat 2 tablespoons oil in a Dutch oven and fry breasts until lightly browned, about 5 minutes on each side. Remove chicken from pan and set aside (refrigerate for safety).
Add remaining tablespoon of oil to the pan and saute the onions for 2 minutes. Stir in the celery and carrots and cook for about one more minute. Season with garlic, bay leaves, thyme and salt and pepper to taste. Cook for another minute.
Deglaze the pot with white wine, stirring until nothing is stuck to the pan, then pour in the chicken broth. Simmer for 90 minutes, allowing the broth to cook down until the mirepoix has a near stew-like consistency.  Use an immersion blender if needed.
Return the chicken breasts to the pan and simmer for an additional 30 minutes. The mixture should reduce considerably by this time so check frequently to see that the chicken is covered. Spoon baste if necessary. The ragout should have a stew like consistency when finished.