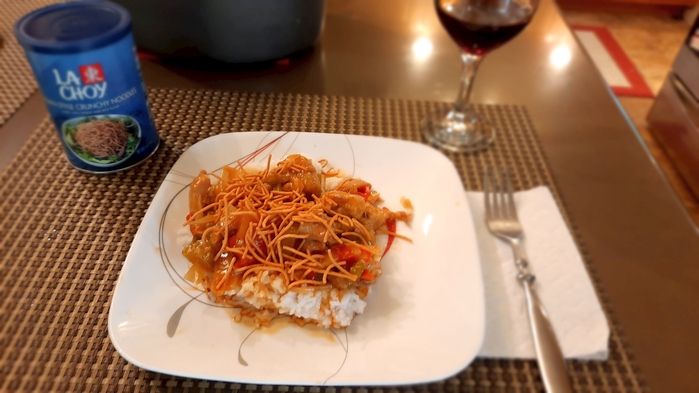 This recipe came from the manual we received with our Rival crockpot over 20 years ago.  We modified it by adding a few more vegetables.  It is tried and tested over the past decades.  It is one of DeAnna's favorites.
Spicy Chicken Chow Mein
Prep time: 30 minutes.  Cook time: 6-8 hours (start in the morning)
1 tbsp cooking oil

1/4 tsp crushed red pepper flakes

1 1/2 lbs chicken breasts cut into 1″ pieces

1/4 tps ground ginger

4 large carrots, thinly sliced

1 clove garlic, minced

4 green onions, sliced, including green portions

8 oz bean sprouts
(we sometimes add 1/2″ squares of chopped red pepper for color)

3 stalks celery, sliced

8 oz can of bamboo shoots

1 C reduced-sodium chicken broth

15 oz can of baby corn

1 Tbsp sugar

1/4 C cornstarch
1/3 C reduced-sodium soy sauce
1/2 C water
Rinse canned vegetables well under cool water before using.  We open the cans, dump the existing water, rinse the can's contents three times then dump them in a colander and continue rinsing with cold water for at least 15 minutes, folding the vegetables around every few minutes with the goal of washing away the 'can' taste.
Heat oil in skillet over medium-high heat.  Add chicken pieces and cook until brown.  Put in crock-pot.  Add remaining ingredients except cornstarch and water.  Stir to combine.  We add some of the minced garlic to the chicken after it has cooked for a few minutes to give it a slightly seared flavor.  Cook contents of crock-pot for 6-8 hours.
Turn crock-pot temperature to High.  In a small bowl, stir cornstarch into cold water until dissolved.  Stir cornstarch and water into the liquid in the crock-pot.  We move the vegetables off to the side of the crock to make a well into which we mix the cornstarch/water slurry, then fold/mix the contents of the crock pot.  Cook until the liquid thickens, about 15 -30 minutes.  Serve with chow mein noodles and / or rise.  Serves 6.  May be doubled with 5-qt crockpot models.